New York bude ma nové taxíky. Klasika a tradícia ustupuje do minulosti.
Miloš Majko
09. 04. 2012 22:18:36
Cestovanie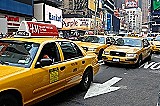 Kto navštívil New York City iste zistil, že najbežnejším dopravným prostriedkom v centre mesta nie je autobus či vlastné auto, ale práve TAXI. Po meste ich má jazdi viacej ako 13 000, sú žltej farby, cestujúci v nich je od vodiča z bezpečnostných dôvodov odhradený prepážkou a vodičmi sú väčšinou hispánci, aziati, černosti alebo prisahovalci z krajín bývalého východného bloku.
Vývoj taxíkov ako koniec koncov všetkého bol zaujímavý a systematicky sa menili aj autá používané taxislužbou. Vždy to však boli a aj v súčasnosti sú klasické vežké americké autá. Ako sa však vyjadril starosta NYC Michael Bloomberg, klasiku nahradí japonský Nissan NV 200.
Plusom nových áut taxislužby okrem vysokej kultúry cestovania bude aj presklená strecha a elektrický pohon, ktorý významne zníži spotrebu benzínu a množstvo exhalátov v centre mesta. Auto bude ma priestranné posuvné dvere na obidvoch stranách a zostane zachované a deliace plexi medzi vodičom a pasažiermi, ktoré bude vo vyhotovení antivandal. Nissan má by vôbec najbezpečnejším vozidlom taxislužby doteraz.
Cesta taxíkom napríklad z medzinárodného letiska JFK na Manhattan stojí 45 USD. Využitie taxi v centre sú oveža výhodnejšie od používania vlastných áut aj vzhžadom na parkovanie v meste s ktorým je naozaj problém.
Z klasických žltých TAXI jazdiacich v New Yorku a z pohžadov na najzaujímavšie časti Manhattanu ktoré môže návštevník "Big Aplle" vidie pri svojej návšteve prinášame niekožko pohžadov. Fotografie sú z denného i nočného mesta, z Times Square, Central parku i ďalších častí NYC.
Fotogaléria k článku:
Komentáre k článku:
Komentova môžu:
registrovaní menom
registrovaní nickom
›VŠETCI‹
UPOZORNENIE: Zo strany vydavateža novín ide o pokus zachova určitú formu vožnej komunikácie – nezneužívajte túto snahu na osočovanie kohokožvek, na ohováranie či šírenie údajov a správ, ktoré by mohli by v rozpore s platnou legislatívou SR a EÚ alebo etikou.
Komunikácia medzi užívatežmi a diskutujúcimi ako aj ostatná komunikácia sa v súlade s právnym poriadkom SR ukladá do databázy a to vrátane loginov - prístupov užívatežov . Databáza providera poskytujúceho pripojenie do internetu zaznamenáva tiež IP adresy užívatežov a ostatné identifikačné dáta. V prípade závažného porušenia pravidel, napríklad páchaním trestnej činnosti, je provider povinný vyda túto databázu orgánom činným v trestnom konaní.
Upozorňujeme, že každý užívatež za svoje konanie plne zodpovedá sám. Administrátor môže zmaza príspevky, ktoré budú porušova pravidlá diskusie, prípadne budú obsahova reklamu, alebo ich súčasou budú reklamné odkazy. Vydavatež novín a redakcia nezodpovedá za obsah príspevkov diskutujúcich a nenesie prípadné právne následky za názory autorov príspevkov.